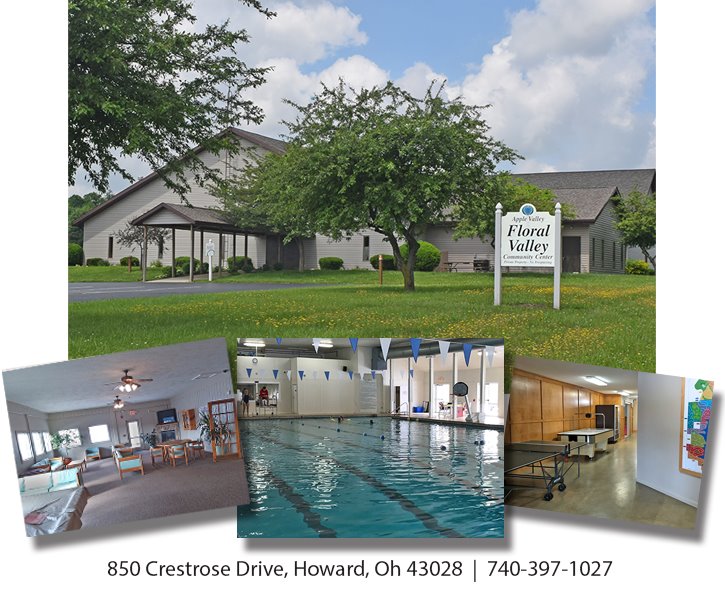 For directions to this facility click on the image above.

Regular Hrs:




Hours For the Pool for January:

Monday Thru Friday     8am – 2pm (Fitness Members Access Card Required)

Monday Thru Friday      2pm – 7pm

Saturday                       9am – 7pm

Sundays                        Closed




 
Pickleball is still available with Access Card



*Access Card required for pickleball
Floral Valley Community Center houses the indoor pool with men's and women's locker rooms, a lobby area with TV and fireplace, a kitchen, a large banquet area, and a smaller meeting room.
The main entrance is located on the side of the building in the upper parking lot.

Here you can:
Pay your assessments (Check or cash only).
Obtain your property owner ID card, Access Card, or Fitness Membership.
Purchase family passes or boat decals.
Swim, lounge, play Ping-Pong, Billiards, or Air Hockey.
Rent small pool room for pool parties (property owners only).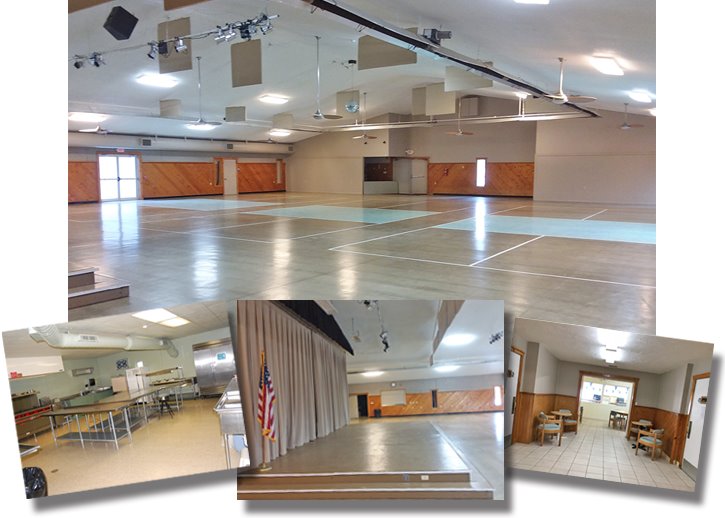 Renting this facility
The large banquet area and the small meeting room are available for rent to both property owners and to the public for-profit or non-profit purposes. 


Indoor Pool

Starting September 1st the indoor pool will be closed for repairs. Currently we do not have a completion date however it could take a substantial period of time based on any unknown findings and on the timing of other projects within the pool.  The projects being completed or considered are:
     Remove and replace the walls & ceiling
     Repair the crack 
     Re-plaster the pool
     Repair and/or replace the loose, broken or missing tile.
     Replace the boiler




The 25-meter heated pool is 3,699 sq. ft. with a 167,400 gallon capacity and depths ranging from 4'-9' for lap swimming or open swim. Table and chairs are available for lounging by the pool. Floating devices and toys are permitted. (See indoor pool rules).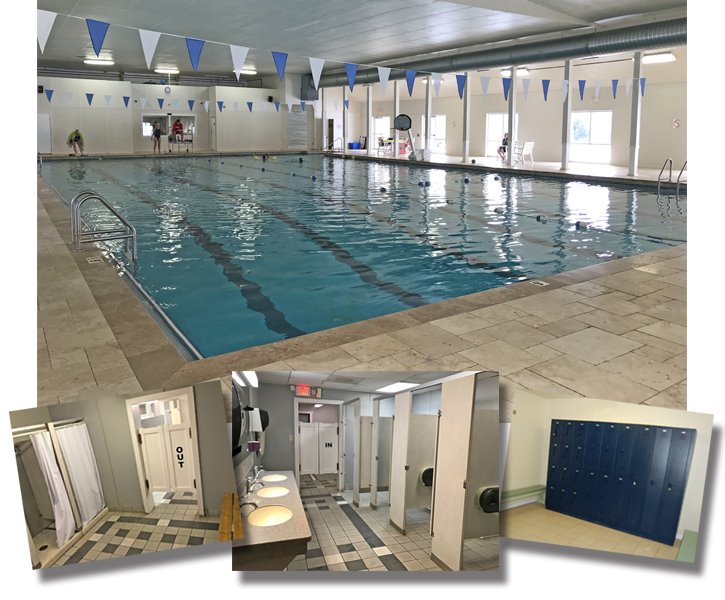 A property owner may bring 6 guests per family unit. There is a per guest fee of $2.00. Water aerobics are available during designated times with a fitness membership.


Pool Party Room
Property owners in good standing may rent the pool party room for pool parties and birthdays. This can be done by calling 740-397-1027 after 2:00 pm to speak with an attendant to check availability and fill out the appropriate paperwork. (Check or cash only).




Outdoor Recreation
 A ball field, dog park, hiking trail, and a playground are for property owners enjoyment.
Please note: Your dog must be tethered at all times. The only exception is once you are inside the dog park.